Undergraduate School
Faculty of Veterinary Science
School of Veterinary Medicine
The School of Veterinary Medicine was founded in 1881 as the first private veterinary school in Japan, and has the longest history amongst the four schools. The school has produced many well-known researchers, including Dr. Shinkichi Umeno, the developer of the vaccines against rabies and rinderpest.
The education provided at this school includes not only knowledge and technologies, such as medical care and sanitary control of animals, defense against zoonotic diseases, and public health in the human society such as food hygiene and environment management, which are useful in multiple fields of veterinary medicine, but also training of veterinarians who can respond to the needs of society and adapt to areas of advanced medicine requiring a high degree of specialization, such as molecular biology and genetic engineering. Through a curriculum which covers everything from the basics to clinical application, this school fosters practical skills which enable the use of precise measures in situations requiring general veterinary skills.
To correspond to the model core curriculum currently in progress in veterinary colleges nationwide, and to the veterinary Computer Based Testing (CBT) and Objective Structured Clinical Examination (OSCE), which will come into operation from 2016, the organization of the schools was changed to a "Division System" this year. Accordingly, the conventional 23 laboratories have been unified into five divisions (basic veterinary medicine, pathological veterinary medicine, clinical veterinary medicine, veterinary medicine for disease prevention, and general education of veterinary medicine), and nine fields (morphofunctions, pathologic analysis, infectious disease medicine, therapeutics I, II, hygiene and public health, wildlife medicine, general veterinary medicine, and a promotion office for veterinary education). Reorganizing the organization has made efficient staff deployment possible, and a positive impact on the education provided at the school is expected as a result.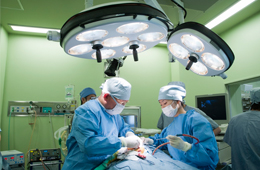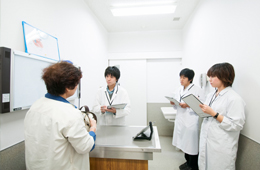 School of Veterinary Nursing and Technology
The School of Veterinary Nursing and Technology was established within the Faculty of Veterinary Science in fiscal 2005, for the purpose of training and nurturing advanced specialists of veterinary health and nursing.
This school not only nurtures significant human resources as assistants of veterinary medicine and veterinary care, in which the tendency towards globalization is becoming stronger, but also has a goal of nurturing specialists in various animal-related fields, including those who have advanced knowledge of wildlife management and maintenance of the global environment, those who comprehend zoonotic diseases and can contribute to animal hygiene and public health practice, those who can contribute to animal-assisted therapy and the production of service animals, and those who are suitable as officials in charge of animal welfare and animal welfare promoters determined in the Act on Welfare and Management of Animals.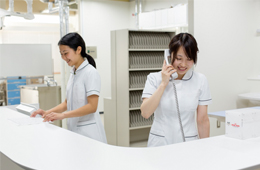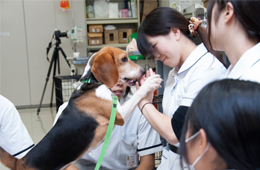 Faculty of Applied Life Science
School of Animal Science
From ancient times, animals have been an integral part of human life, not just in terms of food and clothing, but also as dearly loved pets. And as far as wildlife is concerned, there are various aspects to consider, such as animal protection, symbiosis, and wild game. Laboratory animals are also essential for understanding biological activities and for the development of food additives and pharmaceutical products.
In the School of Animal Science, the domains of learning and research comprise three major pillars. In the "Animal Resource Science" domain, students acquire and practice technical knowledge and techniques of animal production through specializations such as grassland science, nutritional science, and theory of livestock for milk and meat, while experiencing practical animal care at the farm. In the "Animal Bio Science" domain, students acquire and practice biotechnology (including protein analysis, genetic analysis, and cell culture), which has been developed in each field of study, and cultivates a better understanding of cell function and life activities. And there is the "Social Science of Animals" domain, which is related to agricultural food systems which handle everything from food production to consumption, social science investigations of cities and agricultural villages, and wildlife. The major feature of this school is that it includes "Social Science of Animals" as a pillar of study, and it is possible to do research systematically from the process of keeping and feeding industrial animals to their distribution, processing, sale and consumption, step by step.
Each domain conducts research and provides education in terms of "animals needed for humans and society."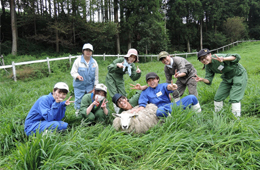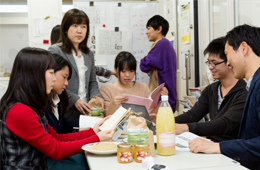 School of Food Science and Technology
The School of Food Science and Technology is a school in which students can learn systematically about matters such as the stable supply, safety, and functionality of food. Through four years of learning, "Food Specialists" are trained. In an advanced and comprehensive manner, they acquire scientific and accurate knowledge and sound judgment about food, and knowledge and techniques concerning food, such as preventive medicine and health maintenance, processing food materials, effective use of resources through biotechniques, and food production, distribution, and economics.
There are five domains of learning. The domain of "Dietetics" deeply investigates the palatability and safeness of food. The domain of "Food Functions" deeply investigates the nutrition of food and biological regulation function. The domain of "Life Science for Food" deeply investigates the chemistry and technology, such as biotechnology, related to the production of food material. The domain of "Food Economics and Business Administration" deeply investigates the distribution and economics of food. The domain of "Food Processing and Storage" deeply investigates the processing and storage of food.
In this school, students can obtain qualifications for Food Sanitation Supervisors and Food Sanitation Inspectors (both are appointment qualifications) by earning the required credits, and there are graduates who make the most of the qualifications and work as public officials or employees at food companies. In addition, students are becoming more likely to proceed to graduate school in recent years, gaining interest in research through preparing their graduate thesis in their affiliate laboratory.